Earthquake Country Alliance, Bay Area
Earthquake Country Alliance Bay Area (ECA Bay Area) is one of three regional alliances that comprise the statewide Earthquake Country Alliance, a public-private-grassroots partnership of leading earthquake professionals, emergency managers, government officials, business and community leaders, and others.
ECA is best known for coordinating the annual Great California ShakeOut earthquake drill and developing multi-sector educational resources.
Funding for ECA activities is provided by FEMA's Building Science Branch as part of its support for the California Governor's Office of Emergency Services Earthquake Program.
Earthquake Country Alliance Bay Area is the new name of the Bay Area Earthquake Alliance (which was founded in 2009 by the USGS as an ECA Regional Alliance).
We encourage you to Join the Alliance.
ECA Bay Area Workshops: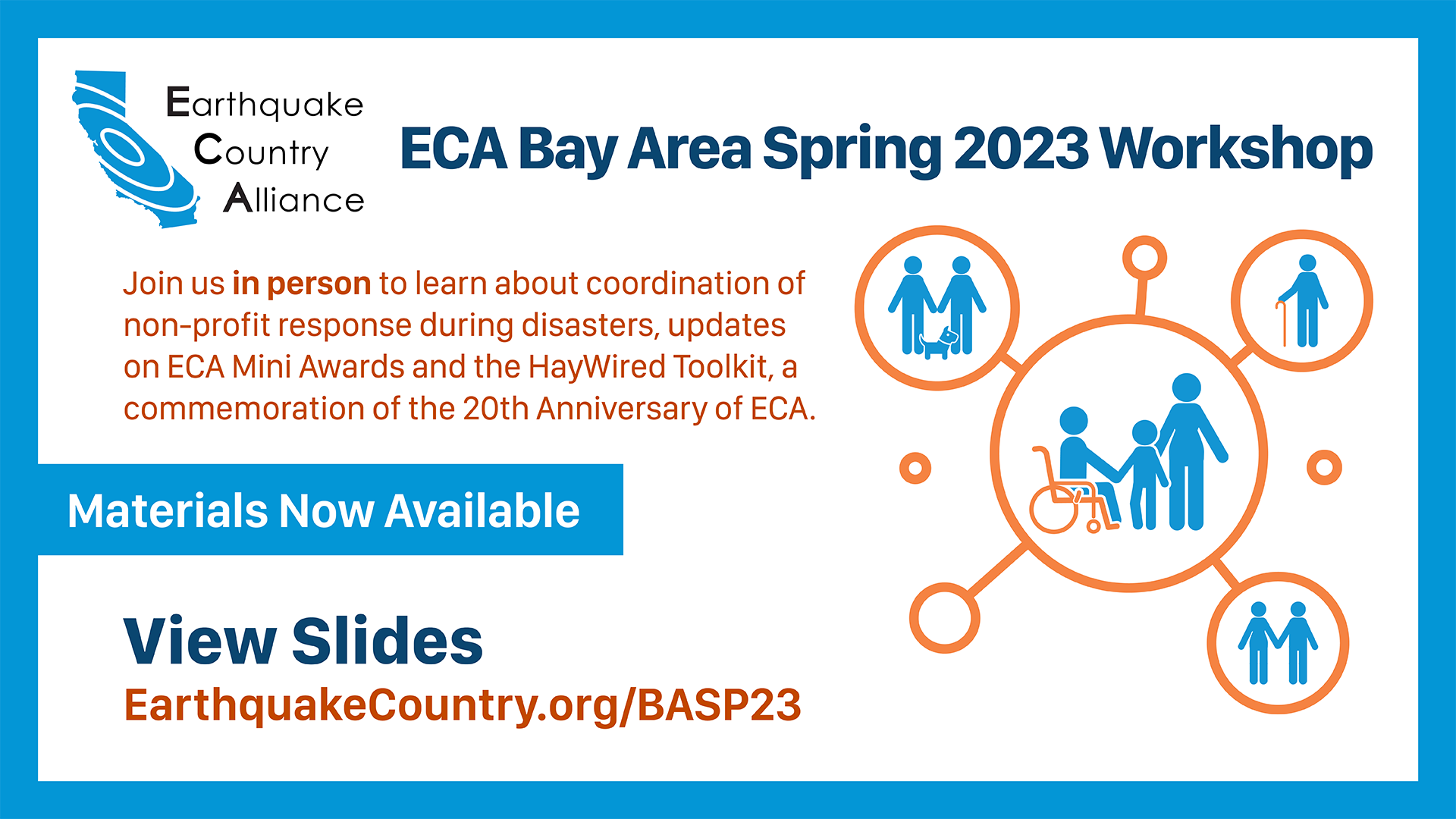 ECA Bay Area Spring 2023 Workshop:
Materials available now!
Learn about coordination of non-profit response during disasters, support for resilience of affordable housing communities, updates about ECA Mini Awards and the HayWired Toolkit, planning for ShakeOut, a commemoration of the 20th Anniversary of ECA, and networking/sharing opportunities.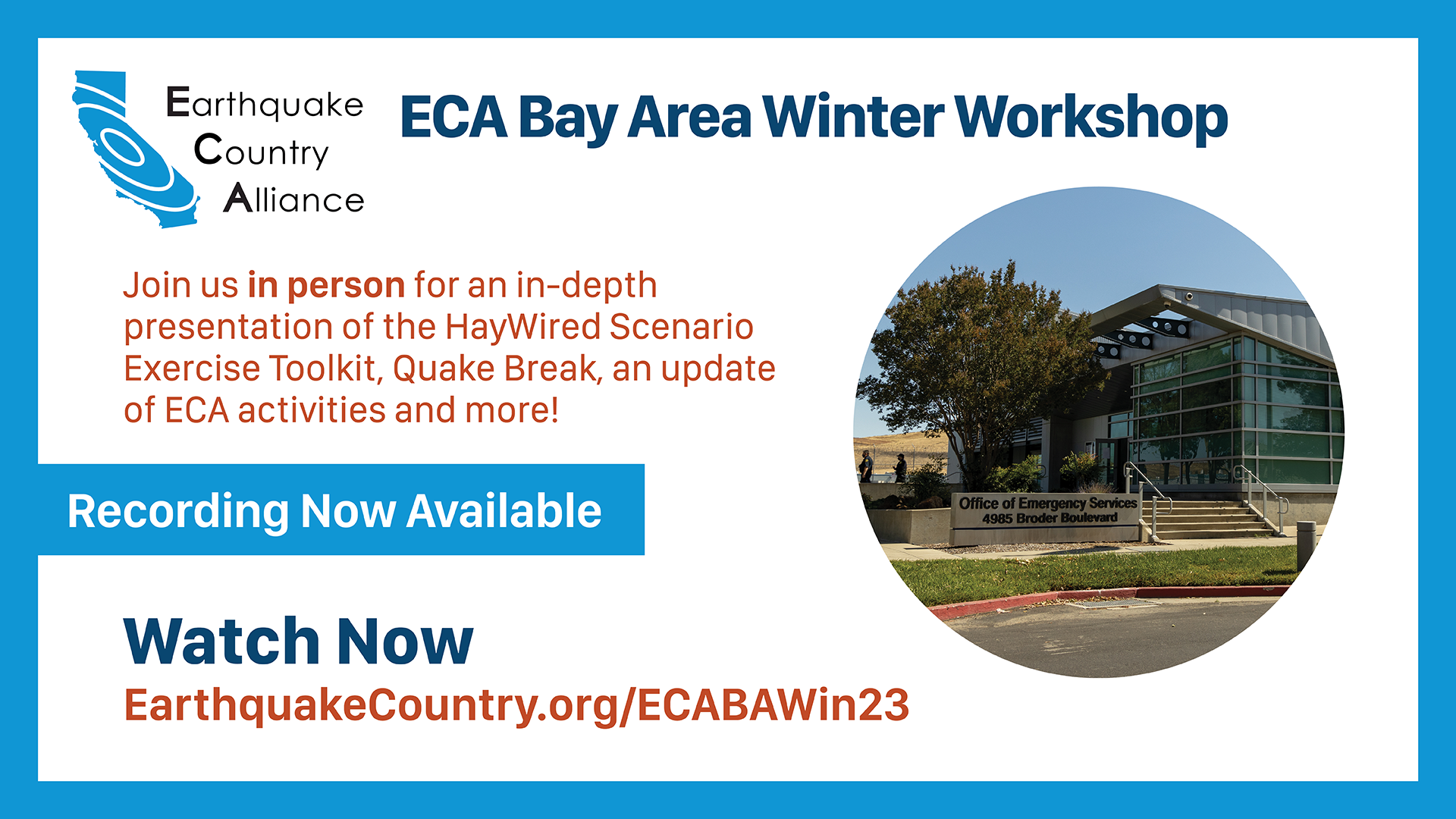 ECA Bay Area Winter 2023 Workshop:
Materials available now!
Learn from for an in-depth presentation of the HayWired Scenario Exercise Toolkit, this quarter's Quake Break, an update of ECA activities and more!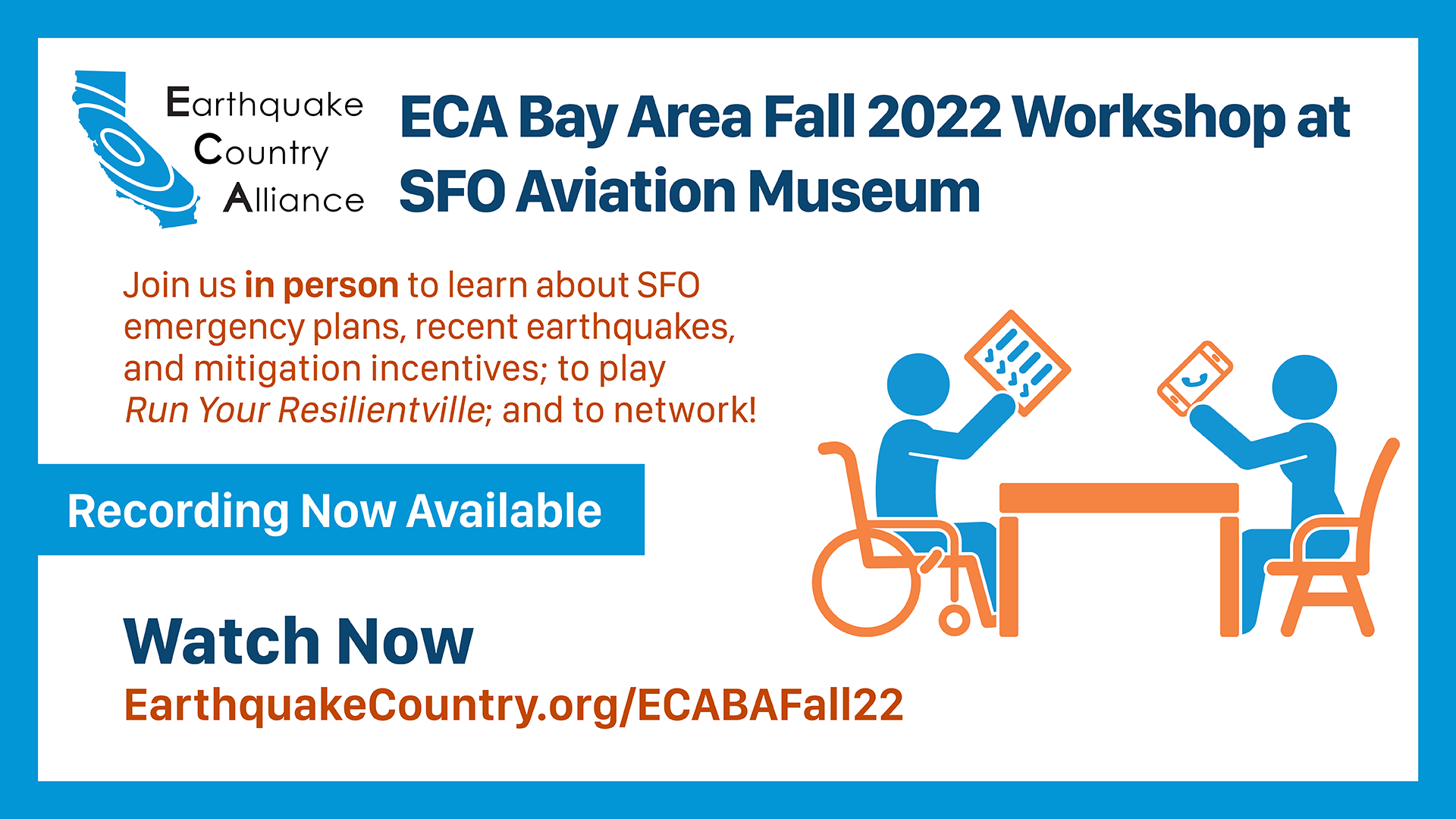 ECA Bay Area Fall 2022 Workshop:
Recording and materials available now!
Talked about SFO emergency plans, recent earthquakes, and mitigation incentives; to play Run Your Resilientville; and to network!
Other Past Workshops (some with recordings)
ECA Bay Area Coordinating Committee
Daniel Homsey, City and County of San Francisco: Chair
Dena Gunning, Central County Fire Dept. (San Mateo County): Chair
Ray Bonilla, Meta: Chair
Jeff Airth, SFO Airport Emerg. Management: Regional Workshops Coordinator
Theresa Langdon, Alameda County OES: Participation Bureau Coordinator
Chief David Cosgrave, Coastside Fire Protection District: Events Bureau Co-Coordinator
Kacey Treadway, San Mateo Consolidated Fire Department: Events Bureau Co-Coordinator
Janet Ruiz, Insurance Information Institute: Media Bureau Co-Coordinator
Susan Garcia, USGS: Communications Coordinator
Wendi Ellis, US Department of Health and Human Services: Membership Coordinator
Sharon Sandow de Groot, SCEC/USC: Regional Alliance Liaison
We are expanding the Coordinating Committee. If you are interested in volunteering please email bayarea@earthquakecountry.org for more information.