Objects on Open Shelves or Table Tops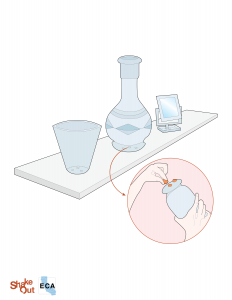 Collectibles, pottery objects, and lamps can become deadly projectiles. Move heavy items and breakables to lower shelves. Use either hook and loop fasteners on the table and object, or non-damaging adhesives such as earthquake putty, clear quake gel, or microcrystalline wax to secure breakables in place.
In addition to causing injuries, damage to your more delicate items like knickknacks, Grandmother's china, or crystal vases can be both a financial and an emotional loss. This is preventable. If you chose products like Quake Hold™ or Museum Wax™ to secure your items, they are available at many hardware stores or online.