Modular Partitions
Purpose
To secure modular partitions.
Recommendation
Arrange multiple partitions in a zigzag or teeshape fashion. Install restraints to single modular partitions.
Supplies Required
Angles—3″ x 3″ x 1/4″
Expansion bolts—3/8″ diameter (for concrete)
Lag bolts—3/8″ diameter (for wood)
Thru-bolts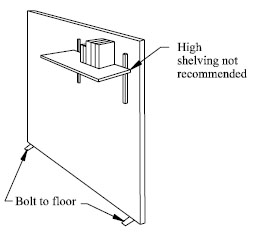 Source: Noson, Perbix, SSD
Installation
Install angle braces at each end on each side of the partition with thru-bolts.
Attach the angles (or partition feet) to the floor with expansion bolts for concrete or lag bolts for wood.
OR
Anchor the partition to the adjacent desk.
Caution
When anchoring to post-tensioned slab, locate and avoid reinforcing.