Emergency Power System
Purpose
To secure emergency power systems.
The emergency power system can include the following elements:
Motor generator set
Battery set
Fuel supply tank
Muffler
Electric cable
Power transfer unit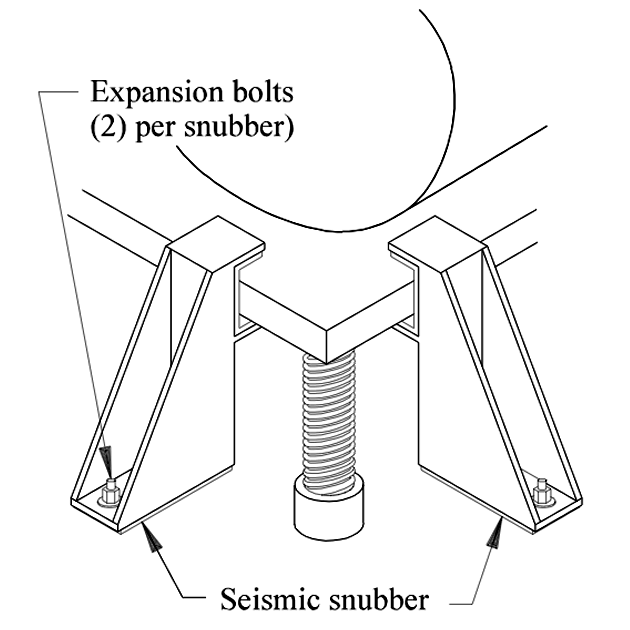 Source: Noson, Perbix, SSD
Recommendation — Secure Generator
Supplies Required
Eight steel Z snubbers (or other type of seismic snubber)
Eight expansion bolts—1/2″ diameter (for concrete)
OR
Eight expansion bolts—1/2″ diameter (for wood)
Installation
Place snubbers at two sides near the corners.
Bolt to the concrete or wood, allowing 1″ free play between the generator and snubber.
Note
Due to size or complex design, motor generator sets and power transfer units may require more extensive mitigation design by a structural engineer.
Equipment may already be anchored directly without using isolation springs. Consult with structural engineer to determine if seismic snubbers are necessary.
Recommendation — Secure Fuel/Water Tank
Install steel braced platforms, metal straps, and slack line to secure fuel supply tank or water day tank.
Caution
When anchoring to post-tensioned slab, locate and avoid reinforcing.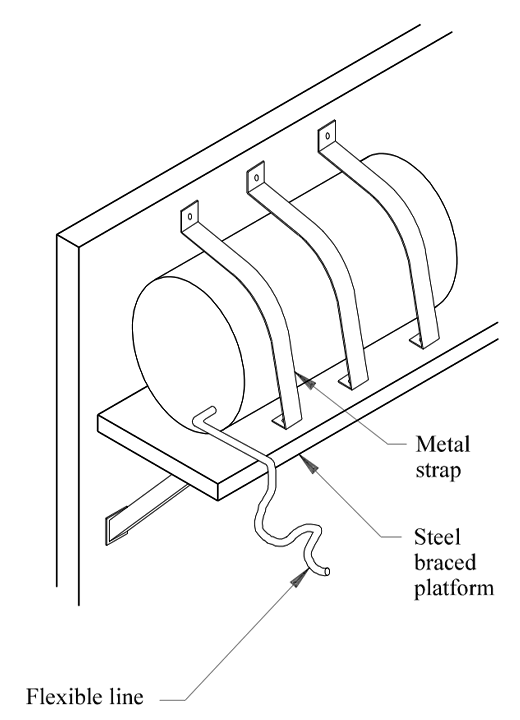 Source: Noson, Perbix, SSD
Supplies Required
Steel-braced platform (Consult an engineer for design.)
Metal straps (18 gage x 2″)
Sheet metal screws—3/8″
Flexible line
Lag bolts or expansion bolts—3/8″
Installation
Place a minimum of two straps (one at each end of the tank).
Secure straps to the steel-braced platform with sheet metal screws. Attach to supporting structure with lag bolts or expansion bolts.
Note
Provide slack in electrical cables.
Anchor each element in the system.