Cripple Walls
The Problem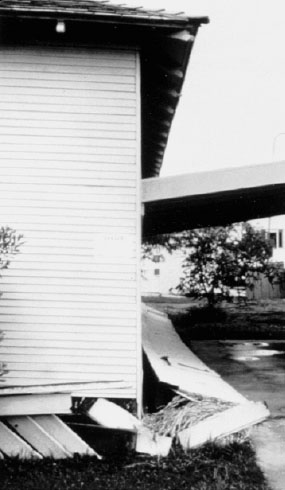 Source: Office of Emergency Services
Wooden floors and stud walls are sometimes built on top of an exterior foundation to support a house and create a crawl space.
These are called cripple walls and they carry the weight of the house.
During an earthquake, these walls can collapse if they are not braced to resist horizontal movement.
If the cripple wall fails, the house may shift or fall.
How to Identify
Source: California Seismic Safety Commission
Go under the house through the crawl space, to see if there are any cripple walls.
If there are cripple walls, check to see if they are braced.
There should be plywood panels adequately nailed to the studs OR there should be diagonal wood sheathing. (See Diagonal Sheathing drawing at right)
If you have neither of these, the cripple walls are probably insufficiently braced or unbraced.
Horizontal or vertical wood siding is not strong enough to brace cripple walls.
The Solution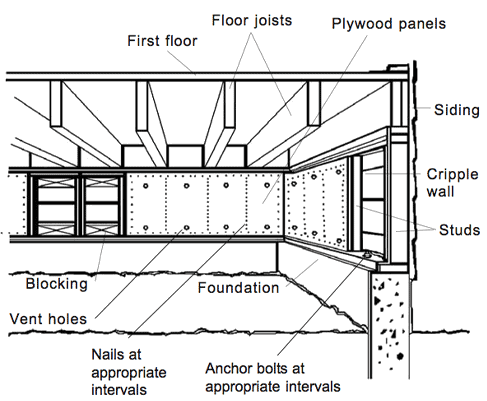 Source: California Seismic Safety Commission
Plywood, or other wood products allowed by code, should be nailed to the studs.
The following are important:

Type of wood product used
Plywood thickness
Nail size and spacing
Do not cover vents.

Consult your local Building Department for permit requirements before starting work.
How-to Resources