Shelving Units
Purpose
To secure shelf units that may cause injury or damage from falling over and will dump contents onto the floor.
Recommendation
Install clip angles and steel struts for shelf units weighing less than 250 pounds.
Supplies Required
Clip angles—1-1/2″ x 1-1/2″ x 1/8″ (4′ maximum spacing)
Lag bolts—3/8″ diameter (for wood shelving)
Expansion bolts—3/8″ diameter (for concrete floors and walls)
Steel strut—1-1/2″ x 1-1/2″ x 1/8″
Sheet metal screws—No. 10 x 3/4″
Machine bolts—1/4″ diameter
Wood screws—No. 10 x 3/4″
Steel plates—1/8″ x 3″ x 6″
Strap bracing—16 gage x 1″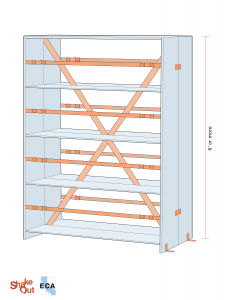 Installation
Clip Angle – Wall Attachment
1. Attach the shelf unit directly to the wall with a clip angle.
2. Secure the unit to the wall with a lag bolt for wood. Embed it into a stud at least 2″. (Do not attach to gypsum wallboard only.) OR Secure to wall with an expansion bolt for concrete.
Clip Angle – Floor Attachment
Attach a clip angle to a concrete floor with expansion bolts. OR Attach a clip angle to a wood floor with lag bolts.
Caution
When anchoring to post-tensioned slab, locate and avoid reinforcing.
Overhead Steel Strut Installation
Secure overhead strut with screws to shelving.
Note
For shelf units that weigh over 250 pounds (including contents), consult a structural engineer.
Attach shelving to frames.
Connect adjacent shelf units with steel plates and machine bolts.
Install strap bracing across back of shelving. Provide three screws at each end of the bracing.