EPIcenter Network, Committee, and Resources
Earthquake Education and Public Information Center (EPIcenter) Network
– Does your institution participate in the Great ShakeOut? 
– Are you interested in promoting earthquake and tsunami awareness for your visitors, staff, and local community?
– Do you want to highlight how your institution is preparing for earthquakes and tsunamis? 
Join Us! – Become an EPIcenter
Participating institutions include museums, science and technology centers, libraries, park visitor centers, planetaria, aquaria, and any other free-choice learning institution.

What is an EPIcenter?
An EPIcenter promotes earthquake and tsunami preparedness and mitigation within their organization, with their visitors, in their local community, and works with other EPIcenter institutions to coordinate messaging with a goal to enhance public safety.

How can your institution participate? 
Become a distribution point for

ShakeOut

or Earthquake Country Alliance (ECA) materials 

Conduct a ShakeOut drill with visitors on ShakeOut Day! 

Develop earthquake and tsunami safety programming for staff and visitors, including information about ShakeAlert earthquake early warning.

Develop/enhance earthquake and tsunami educational programming (summer workshops, professional development, etc.) 

Build partnerships within and between free-choice learning institutions 

Participate in events (California Association of Museums conference, etc.)
What's in it for your Institution?
Increased organizational visibility through participation in ECA and ShakeOut

Improved resilience of your facility, and safety of your staff and visitors (at home too)

Access to ECA resources (printed materials, web products, educational materials)

Invitation to upcoming community events like regional workshops 

And so much more!
      Slide Deck – Sample EPIcenter Products

Here's what the experts say:
Free Choice Learning Environments (FCLEs) are considered some of the most reliable sources of information, even more so than schools and other formal researchers FCLEs are uniquely positioned to increase "hazard literacy" in communities, as they are often focused on place-based, locally relevant learning. [e.g., Groninger, 2016; American Alliance of Museums, 2018; Allison, 2019].

Public education and drills are important to increasing procedural knowledge (e.g. muscle memory). FCLEs allow for cross generational learning, as these organizations educate people outside of traditional educational institutions. This critical learning can help caregivers and parents support children take the correct protective actions. [McBride et al., 2019]
How does my institution join the EPIcenter Network?
Please complete our simple form.
Want to get more involved? Join the ECA EPIcenter Committee

Our Mission
Promote earthquake and tsunami risk reduction in free-choice learning environments and for their visitors.

What do we do?
We develop earthquake and tsunami preparedness education resources for free choice learning institutions and promote participation in preparedness activities including the Great ShakeOut. The Committee helps coordinate regional activities including workshops, presentations, outreach events, and drills. The Committee also facilitates engagement opportunities between EPIcenter Network institutions to share best practices for preparedness programs, develop new resources, and organize webinars and events.

Our Vision: 
To broaden opportunities and expand venues where people and institutions engage with compelling content and programming about living and thriving in earthquake and tsunami country. 

EPIcenter Committee Members:
Chair:
Dr. Robert M. de Groot, USGS Earthquake Science Center – Pasadena, CA


Members:
Kaitlyn Nelson, USGS Earthquake Science Center – Mountain View, CA
Chris Symons, National Park Service, Pinnacles National Park
Richard Moorer, National Park Service, Pinnacles National Park
Michelle Z. Rodriguez, Public Experience Design Lead, Lawrence Hall of Science
Justin Yee, Management Assistant/Outdoor Recreation Planner, Santa Monica Mountains National Recreation Area

Staff liaison:
Sharon Sandow de Groot, SCEC/ECA: sandow@usc.edu

When does the Committee Meet? We meet via webconference for 1 hour every other month (January, March, May, July, September, November).

How much time do I need to commit to the Committee?
We are flexible! You would be considered an active member of the committee if you can join us for our every other month meetings.   

How do I join the EPIcenter Committee?
First, please join the ECA (click "yes" half-way down the page, and then select "Museum/Park/Library" as your sector). Next, email Sharon Sandow (see above) to indicate your interest.
For your institution to join the EPIcenter Network, please complete our simple form.
EPIcenter Resources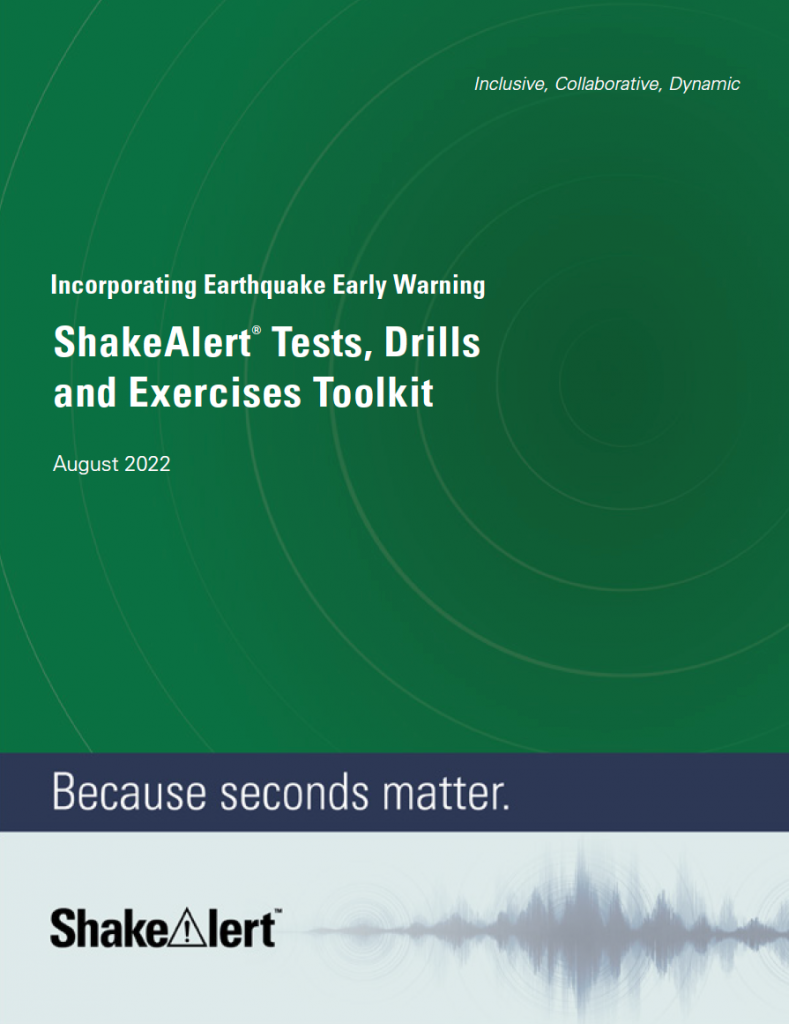 Here is a sample of some of the resources developed by and for EPIcenters and other institutions. 
NEW! ShakeAlert® Tests, Drills and Exercises Toolkit

The US Geological Survey (USGS)-managed ShakeAlert® Earthquake Early Warning System – in collaboration with academic, government, technical, emergency management, and community partners – is committed to educating the public about protective actions that can mitigate harm from earthquake hazards when shaking is expected. To advance this goal, the USGS has developed this ShakeAlert Tests, Drills, and Exercises Toolkit to incorporate earthquake early warning (EEW) into existing training activities including the Great ShakeOut.

Great ShakeOut Earthquake Drills Toolkit for Free-choice Learning Environments:
The goal of this toolkit is to promote Free-Choice Learning Environments (FCLEs) such as museums, libraries, and park visitor center participation in Great ShakeOut Earthquake Drills and other exercises. This toolkit contains tools from several organizations invested in increasing earthquake resilience across the United States..

Voyage of the Kamome – Oregon Museum of Science and Industry: 
On April 7, 2013, a little over two years after a magnitude 9.0 earthquake triggered a massive tsunami off the coast of northeastern Japan, a lone boat washed up on the shores of Crescent City, California.  The boat belonged to a high school in Rikuzentakata.  This is the true story of a small boat that, through the efforts of a hardworking group of Crescent City students, forged friendships and brought hope to communities on both sides of the Pacific.
Science Storytime and STEAM activities featuring the Extraordinary Voyage of Kamome led by Inclusion and Engagement Specialist Jenny Crayne from the Oregon Museum of Science and Industry. 
Turtle Story – Journeys to the Past and Sherman Indian School  
The Turtle Story is a Native American story of how earthquakes occur told by storytellerJacque Tahuka-Nunez a tribal descendant of the Acjachemen Nation. The Turtle Story comes from the Gabrielino-Tongva Nation, also known as the San Gabriel Band of Mission Indians. The video is intended to be an informational and educational tool for those interested in local Native American earthquake legends. Also available, activities for grades K-2 and 3-4 in FEMA's Tremor Troop (see pages 15-21) 
Earthquake Science Show – California Science Center 
Join Michelle and Monica for the Earthquake Show  a 15-minute educational, interactive presentation on the science behind earthquakes and the importance of earthquake safety.
The Earthquake Show was developed by participants in the Southern California Earthquake Center Internship Program and staff from the California Science Center in Los Angeles. Additional funding for the development of this program was provided by the Undergraduate Research Associates Program (URAP) at the University of Southern California.
Place-Based Experiences
Throughout Earthquake Country there are many opportunities for place-based immersive experiences. Here are some examples.  

Wallace Creek Interpretive Trail and Guide – California
Here you are standing on the San Andreas Fault. At this location it runs northwest to southeast at the base of the hills. At one time Wallace Creek drained straight across the fault, but movement by the San Andreas Fault has offset its drainage course, with the downstream segment about 430 feet northwest of the upstream segment. This is one of the best examples of stream offset across a fault in the world. An interpretive trail is available to learn more about this portion of the San Andreas Fault. More at the Wallace Creek Website hosted by the Bureau of Land Management (BLM), US Department of the Interior. The trail guide was created by the Southern California Earthquake Center and the California Institute of Technology. 
Hayward Fault Walk – California
The Hayward Fault is an offset of the San Andreas Fault system that dominates the landforms of eastern San Francisco Bay.  The relative motion between the North American Plate  (southeast) and the Pacific Plate (northwest) create stress that releases energy as earthquakes. This slip slide motion is called a transform fault. Check out the walking tour of the Hayward fault.