Mitigation
ECA's mission is to support and coordinate efforts which improve earthquake and tsunami resilience.
Mitigation: the process or result
of making something less severe,
dangerous, painful, harsh, or
damaging.
ECA's Seven Steps to Earthquake Safety provides guidance for efforts before, during and after earthquakes so we are prepared to survive and recover quickly – and hopefully improve our resilience for future earthquakes, too!
While every step recommends actions that make earthquakes less severe or dangerous, two of the steps are focused directly on "structural" and "non-structural" mitigation actions to complete before earthquakes that will reduce losses due to damage and injury:
Step 1: Secure your space by identifying hazards and securing moveable items.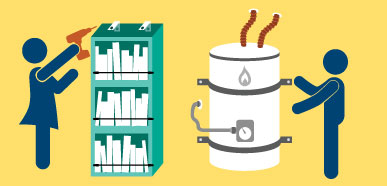 Start now by moving furniture such as bookcases away from beds, sofas, or other places where people sit, sleep, or spend a lot of time. Move heavy objects to lower shelves.
Then continue by securing things such as televisions, computers, bookcases, furniture, unstrapped water heaters, etc.
This is "non-structural" mitigation: preventing items that are not part of your building's structure from falling or flying, to minimize injury and damage. The Step 1 page includes a "Get Started" list, and links to instructions for securing many common household and workplace items.


Step 4: Minimize financial hardship by organizing important documents, strengthening your property (home or other building) and considering earthquake insurance.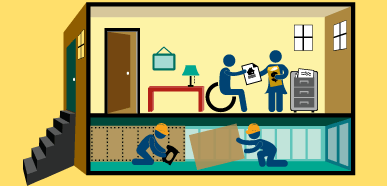 Everyone should begin the process of organizing important documents that you will need to begin your recovery. Strengthening your property ("structural" mitigation, also called "retrofitting") can be an expensive process, but there are some programs that may help (in California, older homes with raised "cripple wall" and similar foundations may be eligible for up to $3000 from the Earthquake Brace+Bolt Program towards the cost completing the retrofit. Finally, earthquake insurance has many options to consider – some more expensive than others.
The Step 4 page provides guidance for each of these aspects and links to instructions for retrofitting common building issues.
Find a contractor and learn more about retrofitting through the California Residential Mitigation Program website (StrengthenMyHouse.com).


Important Mitigation Resources
Federal Emergency Management Agency Mitigation Resources
FEMA P-530, Earthquake Safety at Home (March 2020)
Half of all Americans live in areas subject to earthquake risk, and most Americans will travel to seismically active regions in their lifetime. FEMA is fostering awareness of earthquake risks in the United States through the newly developed FEMA P-530, Earthquake Safety at Home. FEMA P-530 is intended to show readers why earthquakes matter where they live, and how they can "Prepare, Protect, Survive, Respond, Recover and Repair" from an earthquake. This publication will help readers become familiar with why and where earthquakes might occur. It discusses wide-ranging steps that readers can take to adequately prepare and protect themselves, their family, and their belongings. These include: developing family response plans, assembling earthquake emergency supplies, securing heavy objects and furniture, retrofitting a home, and more.
FEMA P-1000, Safer, Stronger, Smarter: A Guide to Improving School Natural Hazard Safety (June 2017)
This Guide provides up-to-date, authoritative information and guidance that schools can use to develop a comprehensive strategy for addressing natural hazards. It is intended to be used by administrators, facilities managers, emergency managers, emergency planning committees, and teachers and staff at K through 12 schools. It can also be valuable for state officials, district administrators, school boards, teacher union leaders, and others that play a role in providing safe and disaster-resistant schools for all. Parents, caregivers, and students can also use this Guide to learn about ways to advocate for safe schools in their communities.
Reducing the Risks of Nonstructural Earthquake Damage—A Practical Guide (FEMA E-74)
As nonstructural failures have accounted for the majority of earthquake damage in several recent U.S. earthquakes, it is critical to raise awareness of potential nonstructural risks, the costly consequences of nonstructural failures, and the opportunities that exist to limit future losses. FEMA E-74 explains the sources of earthquake damage that can occur in nonstructural components and provides information on effective methods for reducing risk associated with nonstructural earthquake damage.
Seismic Building Code Provisions for New Buildings to Create Safer Communities
Earthquakes are some of the most destructive and unpredictable natural phenomena, causing deaths, injuries, and extensive property damage in populated areas. As of 2015, roughly half of all Americans in the conterminous United States are exposed to potentially damaging ground shaking from earthquakes (USGS, 2015). The population exposed to seismic hazard has been steadily growing, leading to a higher potential for losses from seismic events. The estimated earthquake losses per year, known as Annualized Earthquake Losses (AEL), are calculated by FEMA to be $6.1 billion per year in the United States, and 55 metropolitan areas account for 85 percent of the AEL (FEMA, 2017).
FEMA Hazard Mitigation Planning Resources
Other FEMA Building Science Earthquake Publications
Building Resilient Infrastructure and Communities (BRIC) will support states, local communities, tribes and territories as they undertake hazard mitigation projects, reducing the risks they face from disasters and natural hazards. On September 30, 2020, FEMA opened the application period for the FY20 Hazard Mitigation Assistance (HMA) Notices of Funding Opportunities (NOFOs) for the new BRIC pre-disaster mitigation grant program and the Flood Mitigation Assistance (FMA) grant program. Visit the FY20 HMA NOFO webpage for detailed information about applying for funding.
California Governor's Office of Emergency Services Mitigation Resources
CalOES Hazard Mitigation Overview
The California Office of Emergency Services (Cal OES) manages Hazard Mitigation activities and projects through the Hazard 404 Mitigation Grant Program (HMGP), Flood Mitigation Assistance (FMA) program, Pre-Disaster Mitigation (PDM) program. Hazard Mitigation division assists local and tribal governments with their hazard mitigation planning as well as develop the State Hazard Mitigation Plan.
CalOES Hazard Mitigation Grant Program
As the result of a Presidential Disaster Declaration, FEMA's Hazard Mitigation Grant Program (HMGP) funds plans and projects that reduce the effects of future natural disasters. In California, these funds are administered by the Cal OES HMGP Unit. Eligible subapplicants include state agencies, local governments, special districts, and some private non-profits. See also the FEMA BRIC program with Cal OES' guidance.
CalOES MyHazards
MyHazards is a tool for the general public to discover hazards in their area (earthquake, flood, fire, and tsunami) and learn steps to reduce personal risk. Using the MyHazards tool, users may enter an address, city, zip code, or may select a location from a map. The map targets the location, and allows users to zoom and scroll to their desired view. The screen then presents information on the risks identified within the search radius, and recommended actions. MyHazards website performs best when using Internet Explorer. Hazard Data is approximate and data layer visibility are subject to the extent of the Map.
Applied Technology Council
For information, trainings, and products helpful to mitigation, see the Applied Technology (ATC) website. The ATC is a nonprofit, tax-exempt corporation established in 1973 through the efforts of the Structural Engineers Association of California. ATC is guided by a Board of Directors consisting of representatives appointed by the American Society of Civil Engineers, the National Council of Structural Engineers Associations, the Structural Engineers Association of California, the Structural Engineers Association of New York, the Western Council of Structural Engineers Associations, and four at-large representatives concerned with the practice of structural engineering. Each director serves a three-year term. Project management and administration are carried out by a full-time Executive Director and support staff. Project work is conducted by a wide range of highly qualified consulting professionals, thus incorporating the experience of many individuals from academia, research, and professional practice who would not be available from any single organization. Funding for ATC projects is obtained from government agencies and from the private sector in the form of tax-deductible contributions. The corporate headquarters for ATC is located in Redwood City, California, with a satellite office in Arlington, Virginia.