SecureYourSpace.org Promotional Materials
Secure Your Space Promotional Materials
Earthquakes can happen anytime, anywhere. That's why it's important to be prepared at all times. You can use the messaging, graphics, and other media here to share key steps your organization, community, or other audience can take to make your space safer during an earthquake. This is known as nonstructural mitigation, i.e. reducing the chance of everyday objects becoming a problem that are not an integral part of the structure in which you are.
We're all in this together, and together…
we can make it better.
---
Graphics
---
Social Media
Most earthquake injuries are entirely preventable. "Secure Your Space" to protect yourself and others from furniture and other objects that can fall or fly, starting with many simple, do-it-yourself (#DIY), and free or low-cost actions: http://SecureYourSpace.org.

La mayoría de accidentes ocasionados por terremotos son evitables. "Asegure Su Espacio" para protegerse usted y otros de muebles y objetos que pueden caerse o volar, empezando con muchos, hazlo-tu-mismo, proyectos y otras acciones gratis o de bajo costo: https://SecureYourSpace.org.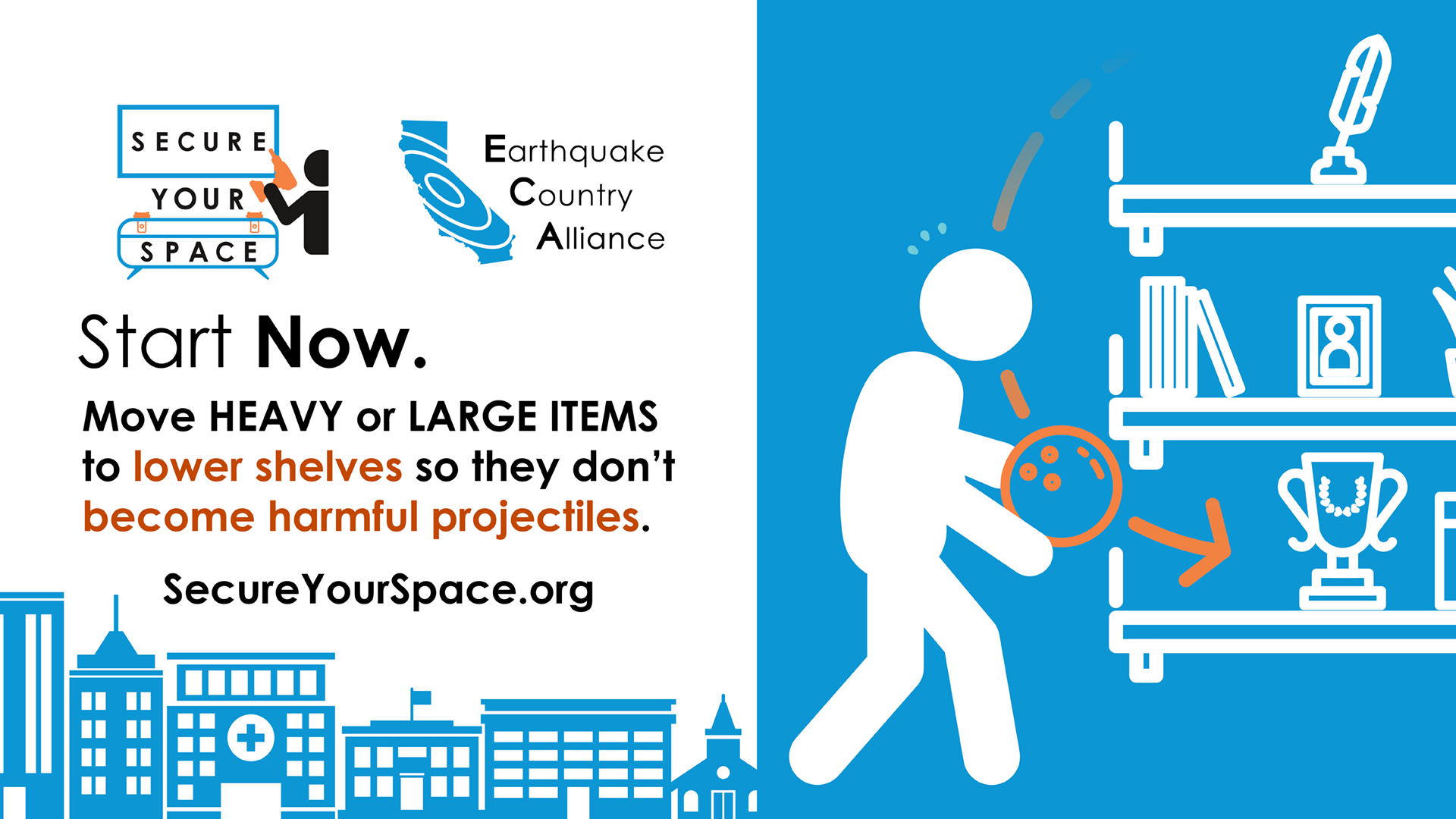 Earthquakes can cause cabinet doors to fly open, dumping their contents onto the floor and creating risks of spills, trips, or cut feet. Install latches on cabinet doors to prevent injuries to you and those around you https://SecureYourSpace.org.

Los terremotos pueden ocasionar que las puertas de los gabinetes se abran, arrojando sus contenidos al piso y creando riesgo de derrames, tropiezos, y pies lesionados. Installe pestillos a las puertas de gabinetes para evitar que usted y quienes le rodean se lesionen https://SecureYourSpace.org.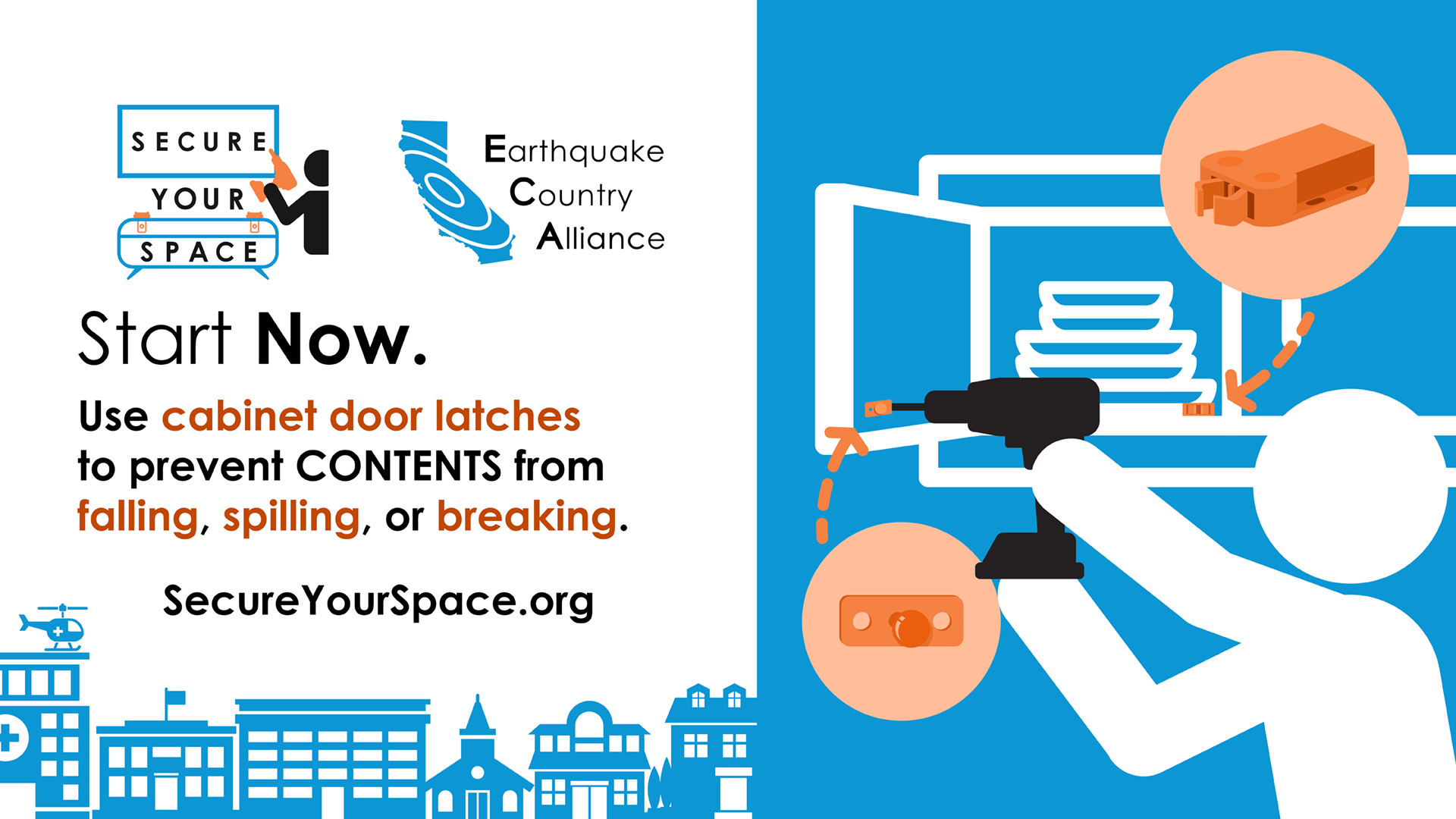 Step 1 of the Seven Steps to Earthquake Safety is "Secure your Space!" Many of the actions, like securing top-heavy furniture and appliances, are low cost and do-it-yourself (#DIY): https://SecureYourSpace.org.

El paso 1 de los Siete pasos para la seguridad en caso de terremoto es "¡Asegure su espacio!". Muchas de las acciones, como asegurar los muebles y electrodomésticos de mayor peso, son de bajo coste y de hazlo-tu-mismo (#DIY): https://SecureYourSpace.org.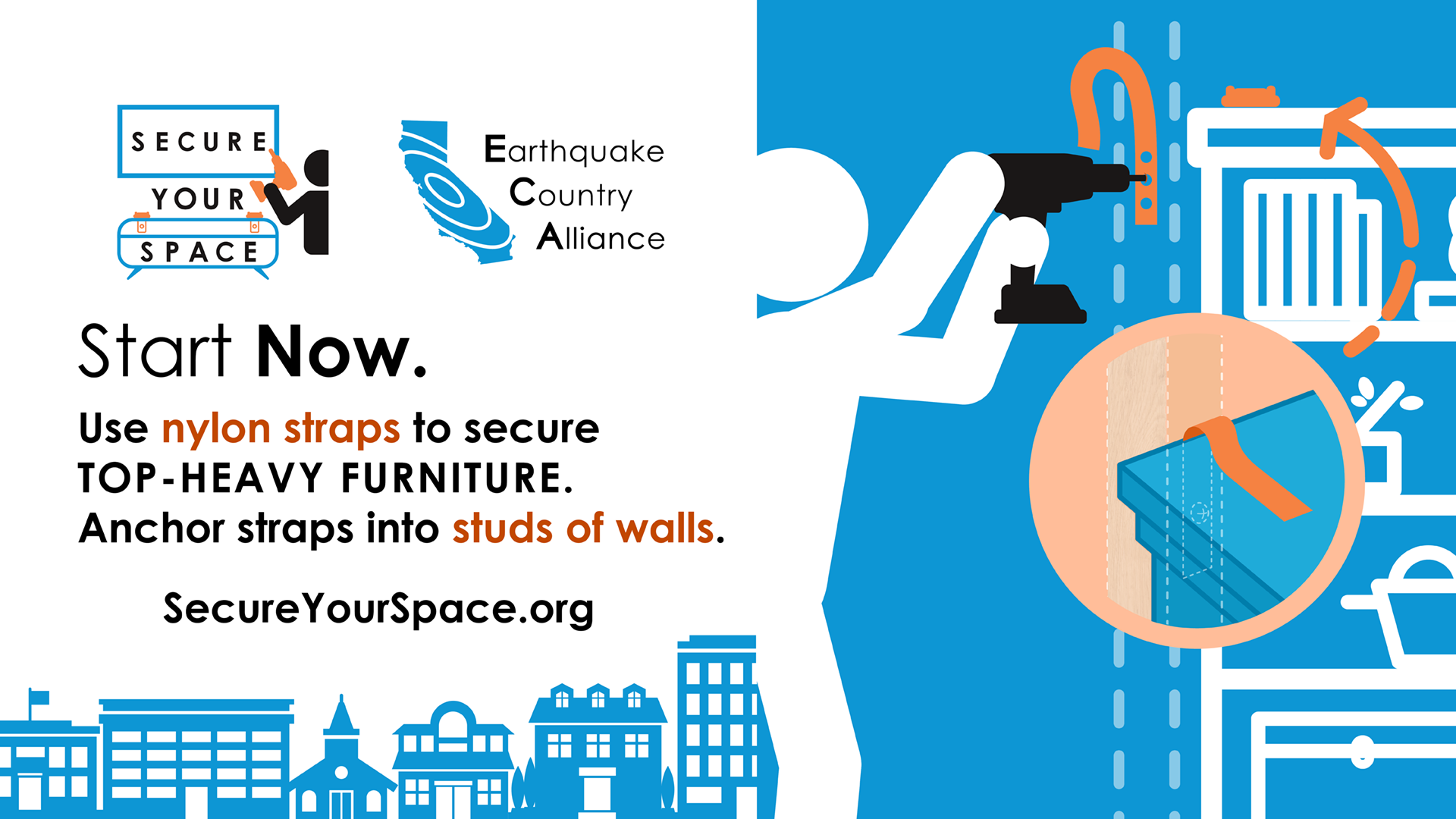 During an earthquake, shaking can cause TVs and computers to fall, causing damage and injury. Securing these items with nylon straps is an easy and low-cost way to ensure that your home is earthquake-ready: https://SecureYourSpace.org.

Durante un terremoto, las sacudidas pueden provocar la caída de televisores y computadoras, causando daños y lesiones. Asegurando estos artículos con correas de nylon es una manera fácil y de bajo costo para asegurar que su casa esté preparada para un terremoto: https://SecureYourSpace.org.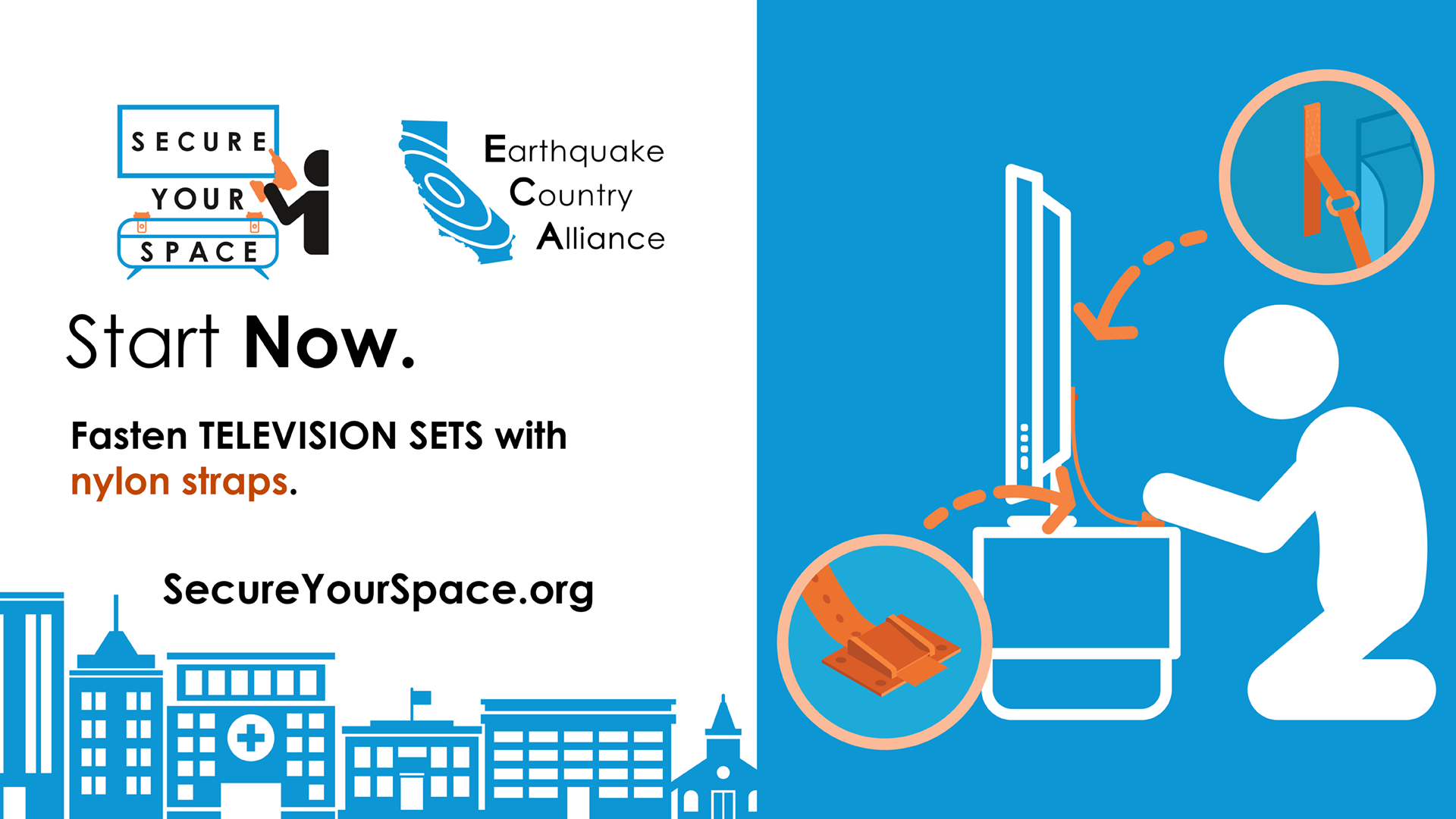 Small objects such as vases, pots, and figurines can become big problems when they fall and break due to earthquake shaking! This can lead to risks of cuts, spills, and trips. Learn how to Secure Your Space by apply putty and other solutions: https://SecureYourSpace.org.

¡Debido al sacudimiento durante un terremoto, objetos pequeños como jarrones y macetas pueden ocasionar grandes problemas cuando se caen y rompen! Esto puede provocar riesgos de cortes, derrames y tropiezos. Aprenda a Asegurar Su Espacio aplicando: https://SecureYourSpace.org.

Top-heavy appliances and furniture can fall over in an earthquake, injuring people, blocking entrances and exits, and ruining contents inside / among shelves. Learn how to easily Secure Your Space at https://SecureYourSpace.org!

Electrodomésticos y muebles pesados pueden caerse durante un terremoto, lesionando a personas, bloqueando entradas y salidas, y arruinando los contenidos dentro / entre los estantes. ¡Aprenda qué fácil es Asegurar Su Espacio en https://SecureYourSpace.org!

During an earthquake, shaking can cause TVs and computers to fall, causing damage and injury. Securing these items with nylon straps is an easy and low-cost way to ensure that your home is earthquake-ready: http://SecureYourSpace.org.
·
·
·
#earthquake #shakeout #shaking #terremoto #terremotos #greatshakeout #preparedness #prepare #safety #safe #health #healthandsafety #EarthquakeSafety #EmergencyPreparedness #SecureYourSpace

Durante un terremoto, las sacudidas pueden provocar la caída de televisores y computadoras, causando daños y lesiones. Asegurando estos artículos con correas de nylon es una manera fácil y de bajo costo para asegurar que su casa esté preparada para un terremoto: https://SecureYourSpace.org.
·
·
·
#earthquake #shakeout #shaking #terremoto #terremotos #greatshakeout #preparedness #preparacion #salud #seguridad #safe #health #healthandsafety #EarthquakeSafety #SeguridadTerremotos #EmergencyPreparedness #emergencias #SecureYourSpace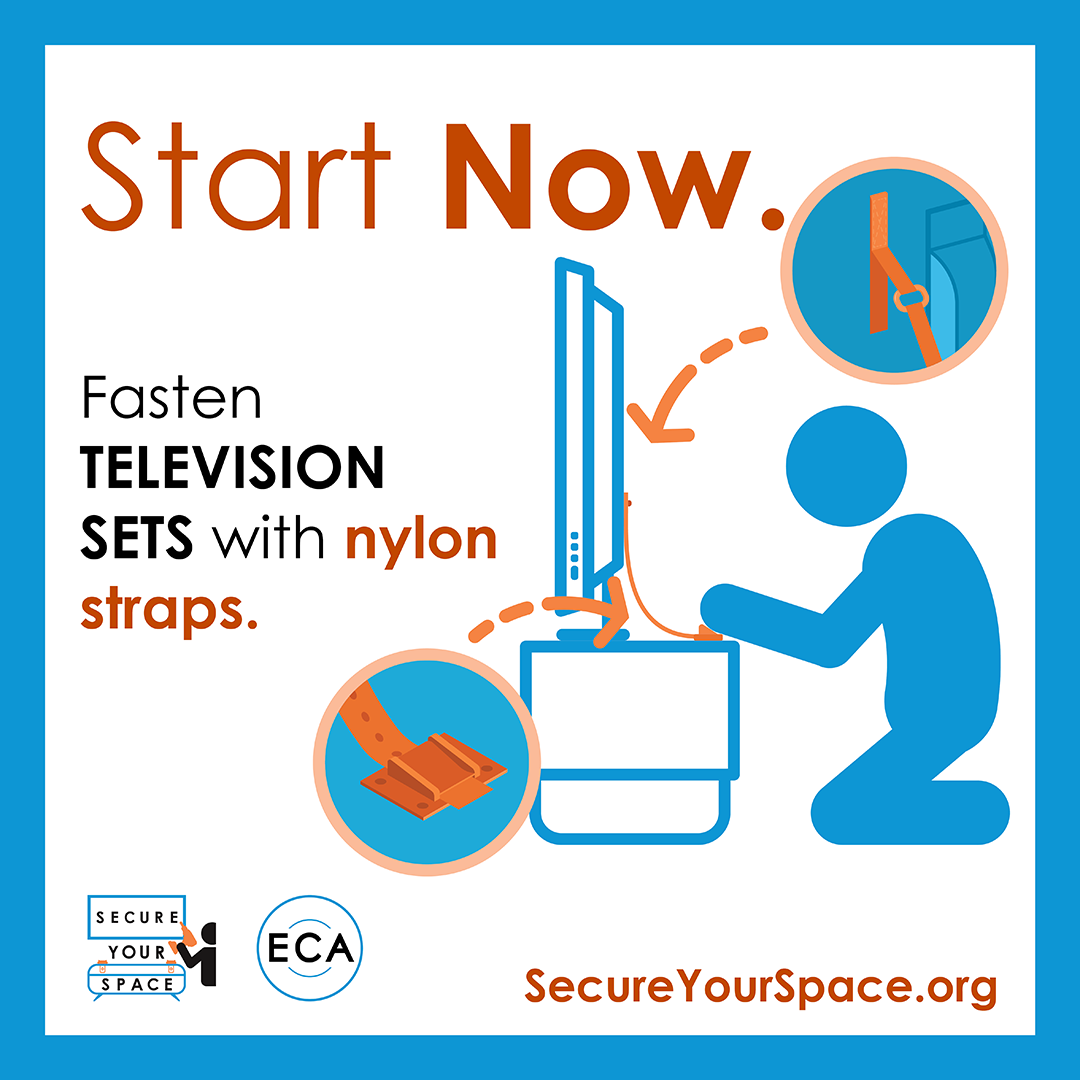 Small objects such as vases, pots, and figurines can become big problems when they fall and break due to earthquake shaking! This can lead to risks of cuts, spills, and trips. Learn how to Secure Your Space by apply putty and other solutions: http://SecureYourSpace.org.
·
·
·
#earthquake #shakeout #shaking #terremoto #terremotos #greatshakeout #preparedness #prepare #safety #safe #health #healthandsafety #EarthquakeSafety #EmergencyPreparedness #SecureYourSpace

¡Debido al sacudimiento durante un terremoto, objetos pequeños como jarrones, macetas y figuritas pueden ocasionar grandes problemas cuando se caen y rompen! Esto puede provocar riesgos de cortes, derrames y tropiezos. Asegurar Su Espacio: https://SecureYourSpace.org.
·
·
·
#earthquake #shakeout #shaking #terremoto #terremotos #greatshakeout #preparedness #preparacion #salud #seguridad #safe #health #healthandsafety #EarthquakeSafety #SeguridadTerremotos #EmergencyPreparedness #emergencias #SecureYourSpace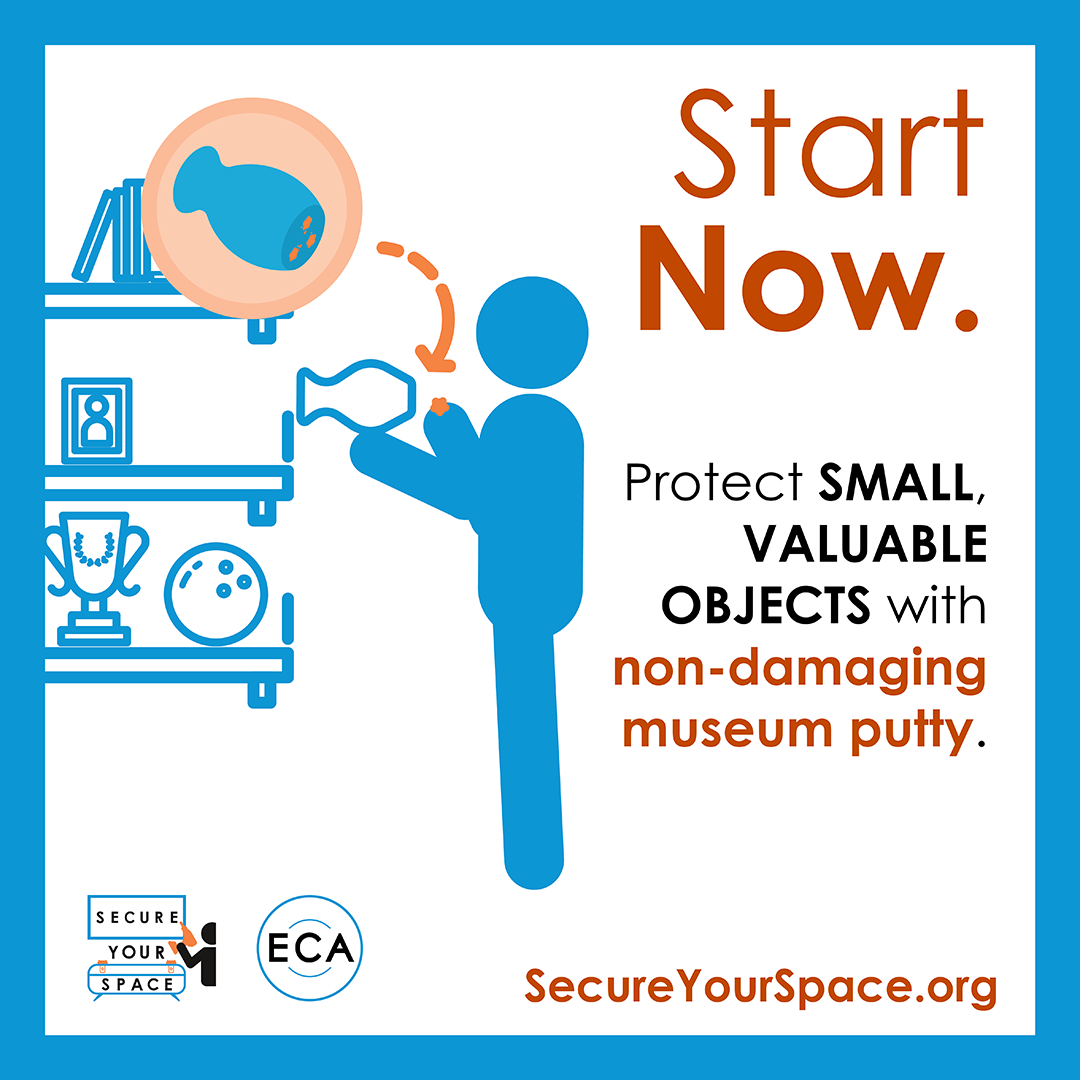 Top-heavy appliances and furniture can fall over in an earthquake, injuring people, blocking entrances and exits, and ruining contents inside / among shelves. Learn how to easily Secure Your Space at http://SecureYourSpace.org!
·
·
·
#earthquake #shakeout #shaking #terremoto #terremotos #greatshakeout #preparedness #prepare #safety #safe #health #healthandsafety #EarthquakeSafety #EmergencyPreparedness #SecureYourSpace

Electrodomésticos y muebles pesados pueden caerse durante un terremoto, lesionando a personas, bloqueando entradas y salidas, y arruinando los contenidos dentro / entre los estantes. ¡Aprenda qué fácil es Asegurar Su Espacio en https://SecureYourSpace.org!
·
·
·
#earthquake #shakeout #shaking #terremoto #terremotos #greatshakeout #preparedness #preparacion #salud #seguridad #safe #health #healthandsafety #EarthquakeSafety #SeguridadTerremotos #EmergencyPreparedness #emergencias #SecureYourSpace

Most earthquake injuries are entirely preventable. "Secure Your Space" to protect yourself and others from furniture and other objects that can fall or fly, starting with many simple, do-it-yourself (#DIY), and free or low-cost actions: http://SecureYourSpace.org.
·
·
·
#earthquake #shakeout #shaking #terremoto #terremotos #greatshakeout #preparedness #prepare #safety #safe #health #healthandsafety #EarthquakeSafety #EmergencyPreparedness #SecureYourSpace

La mayoría de accidentes ocasionados por terremotos son evitables. "Asegure Su Espacio" para protegerse usted y otros de muebles y objetos que pueden caerse o volar, empezando con muchos, hazlo-tu-mismo, proyectos y otras acciones gratis o de bajo costo: https://SecureYourSpace.org.
·
·
·
#earthquake #shakeout #shaking #terremoto #terremotos #greatshakeout #preparedness #preparacion #salud #seguridad #safe #health #healthandsafety #EarthquakeSafety #SeguridadTerremotos #EmergencyPreparedness #emergenicas #SecureYourSpace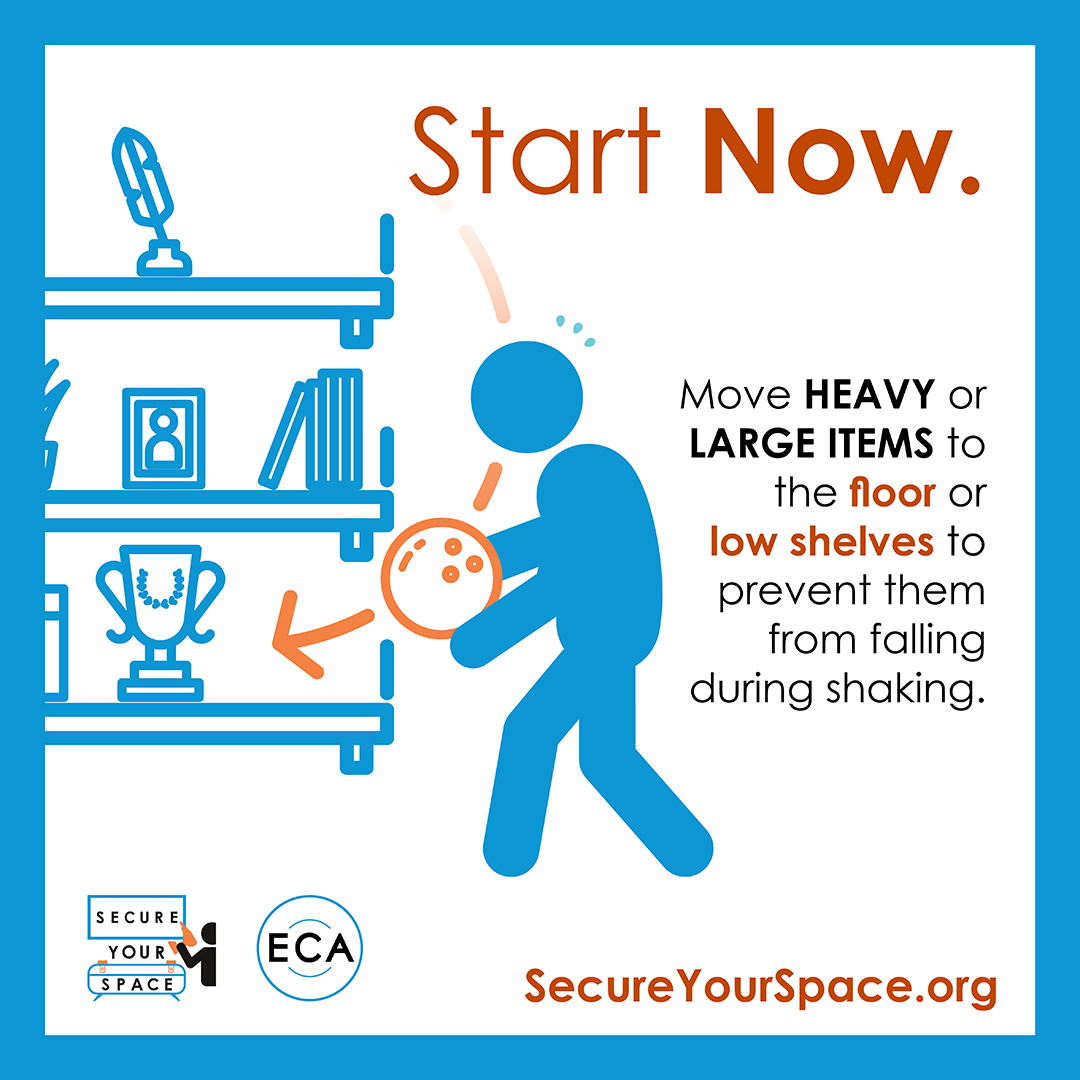 Earthquakes can cause cabinet doors to fly open, dumping their contents onto the floor and creating risks of spills, trips, or cut feet. Install latches on cabinet doors to prevent injuries to you and those around you http://SecureYourSpace.org.
·
·
·
#earthquake #shakeout #shaking #terremoto #terremotos #greatshakeout #preparedness #prepare #safety #safe #health #healthandsafety #EarthquakeSafety #EmergencyPreparedness #SecureYourSpace

Los terremotos pueden ocasionar que las puertas de los gabinetes se abran, arrojando sus contenidos al piso y creando riesgo de derrames, tropiezos, y pies lesionados. Installe pestillos a las puertas de gabinetes para evitar que usted y quienes le rodean se lesionen https://SecureYourSpace.org.
·
·
·
#earthquake #shakeout #shaking #terremoto #terremotos #greatshakeout #preparedness #preparacion #salud #seguridad #safe #health #healthandsafety #EarthquakeSafety #SeguridadTerremotos #EmergencyPreparedness #emergencias #SecureYourSpace

Step 1 of the Seven Steps to Earthquake Safety is "Secure your Space!" Many of the actions, like securing top-heavy furniture and appliances, are low cost and do-it-yourself (#DIY): http://SecureYourSpace.org.
·
·
·
#earthquake #shakeout #shaking #terremoto #terremotos #greatshakeout #preparedness #prepare #safety #safe #health #healthandsafety #EarthquakeSafety #EmergencyPreparedness #SecureYourSpace

El paso 1 de los Siete pasos para la seguridad en caso de terremoto es "¡Asegure su espacio!". Muchas de las acciones, como asegurar los muebles y electrodomésticos de mayor peso, son de bajo coste y de hazlo-tu-mismo (#DIY): https://www.terremotos.org/paso1/.
·
·
·
#earthquake #shakeout #shaking #terremoto #terremotos #greatshakeout #preparedness #preparacion #salud #seguridad #safe #health #healthandsafety #EarthquakeSafety #SeguridadTerremotos #EmergencyPreparedness #emergencias #SecureYourSpace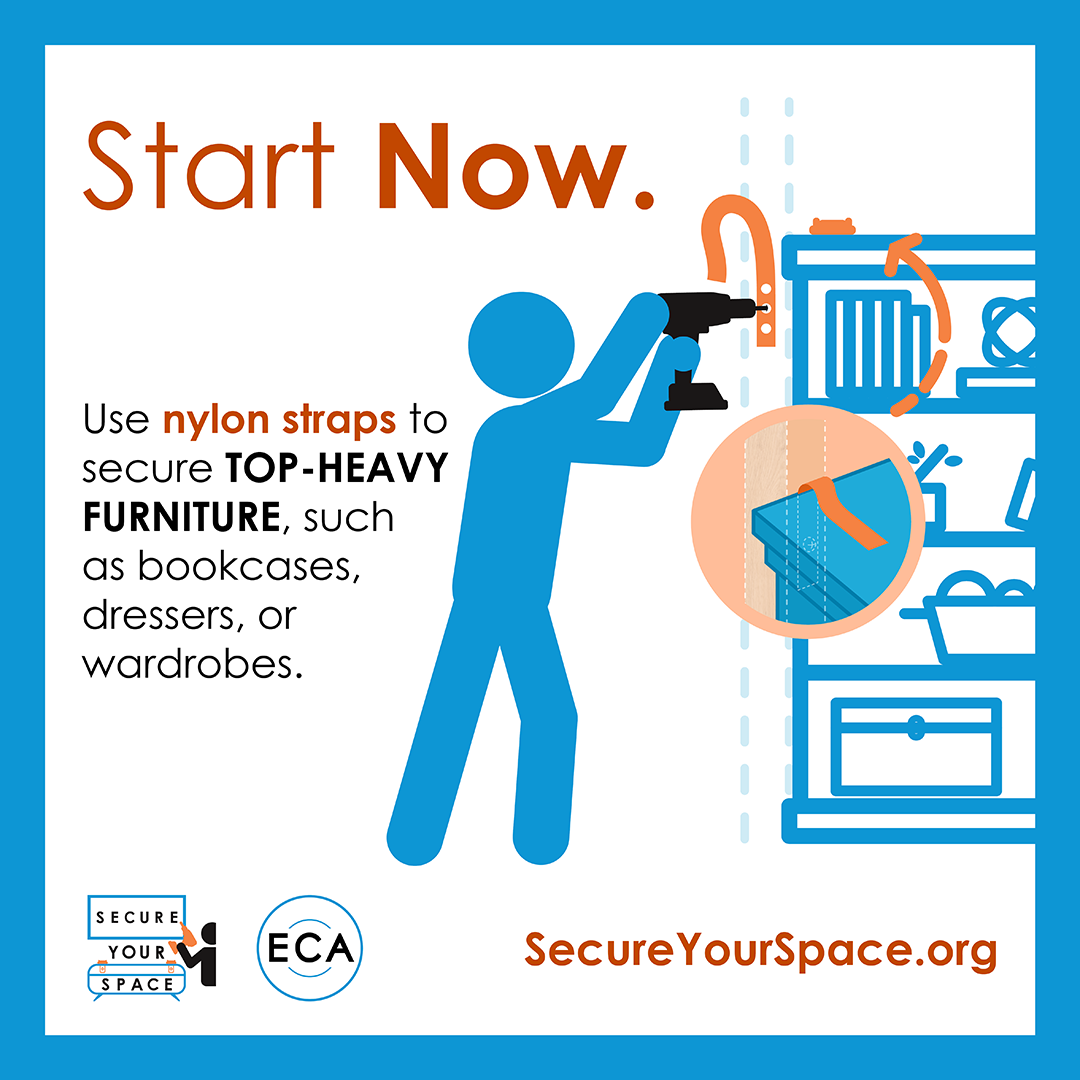 ---
Animated Graphics
---
Media / PIO Contact
· Lead Organizers
Mark Benthien
SCEC Associate Director and ECA Executive Director
Southern California Earthquake Center (USC) and Earthquake Country Alliance
benthien@usc.edu
(213) 926-1683
www.EarthquakeCountry.org
Jason Ballmann
Communications Manager
Southern California Earthquake Center
ballmann@usc.edu
(213) 740-1560
www.EarthquakeCountry.org

· Public / Nonprofit Partners
Pamela Diaz (English and Spanish)
CEA Media Relations
California Earthquake Authority
media@calquake.com
(279) 203-5998
www.EarthquakeAuthority.com

· Private / Retail Partners
Trevyn Reese
Account Manager
Ready America, Inc.
trevyn@readyamerica.com
(858) 357-3642
www.ReadyAmerica.com