Staying Safe Where the Earth Shakes
California is a beautiful state. But no matter where you live in our state, whether it is the Redwood forests, high Cascades, Lake Tahoe, San Francisco Bay Area, Central Valley, Mojave Desert, near the beaches of southern California, a big city or smaller town, you live in earthquake country. Understanding the risks and preparing to survive and recover can help keep you and your family safe.
Staying Safe Where the Earth Shakes is a booklet that includes the "Seven Steps to Earthquake Safety" – basic guidelines for what to do before, during, and after a damaging earthquake. You can also visit EarthquakeCountry.org/SevenSteps for more tips on how to apply these steps to your family's unique needs.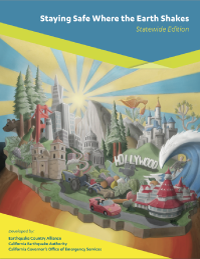 The statewide version of this booklet is available in three languages:

Regional editions (listed below) are available with local hazard information and contacts.
Click a region
to download

---
Regional Editions
Region

Counties
Booklet

San Diego
San Diego
Download PDF
Southern California Coast
Los Angeles, Ventura, Orange
Download PDF
Inland Southern California
Imperial, Riverside, San Bernardino
Download PDF
Central Coast
Monterey, San Benito, San Luis Obispo,
Santa Barbara, Santa Cruz
Download PDF
Central Valley South
Fresno, Kern, Kings, Madera, Mariposa, Merced, Tulare
Download PDF
Inyo/Mono
Inyo, Mono
Download PDF
Bay Area
Alameda, Contra Costa, Marin, Napa,
San Francisco, San Mateo, Santa Clara, Solano, Sonoma
Download PDF
Delta Sierra
Alpine, Amador, Calaveras, Colusa, El Dorado, Nevada, Placer, Sacramento,
San Joaquin, Stanislaus, Sutter, Tuolumne,
Yolo, Yuba
Download PDF
Shasta Cascade
Butte, Glenn, Lassen, Modoc, Plumas, Shasta,
Sierra, Siskiyou, Tehama, Trinity
Download PDF
North Coast
Del Norte, Humboldt, Lake, Mendocino

(Because this popular booklet already exists,
a North Coast edition of "Staying Safe" has not been created.)

Download PDF
or read online
---
Looking for resources for other areas?
Our Booklets page has additional options for Southern California, the Bay Area, and other parts of the United States, as well as a booklet about disaster resilience for workplaces.