Earthquake Country Alliance Calendar
ECA Symposium at the Natural Disasters Expo
November 9, 2022 @ 10:45 am

-

4:15 pm

Free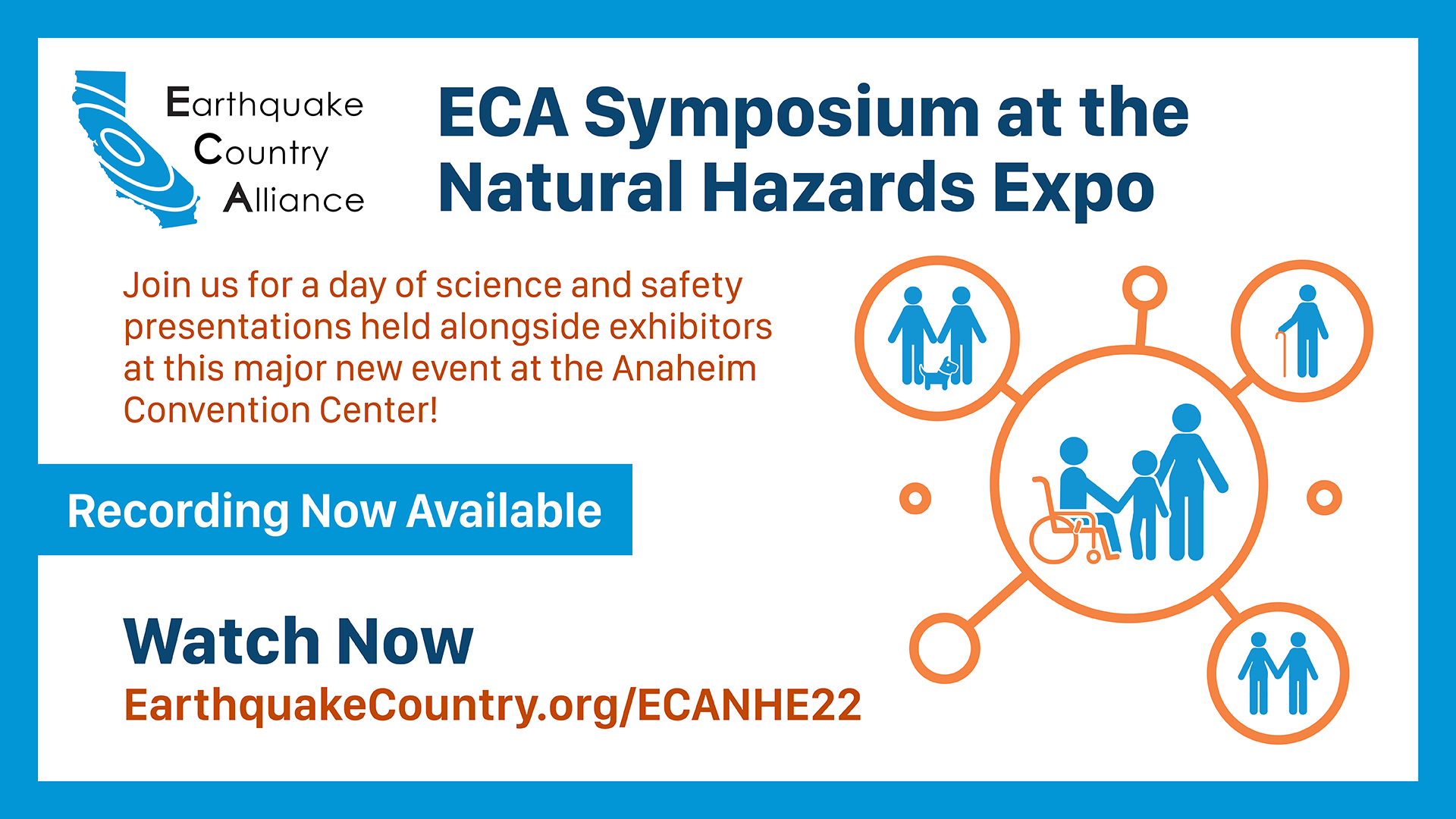 The Natural Disasters Expo, being held in Anaheim for the first time, will host an Earthquake Country Alliance Symposium on November 9 (organized by ECA SoCal, in lieu of its 2022 Fall Workshop).
ECA Members and all Expo participants are welcome to attend this day of science and safety presentations and trainings – plus explore all the exhibitor booths during our longer breaks.
We are pleased to be joined by Dr. John Rundle, UC Davis, who will present the Keynote Address of the symposium, about new methods for "Anticipating Earthquakes."
In addition, each main presentation during the ECA Symposium will provide attendees with free materials! These will include earthquake safety booklets, FEMA financial first aid kits, earthquake safety workbooks (during the "Seven Steps" presentation at 1:15pm), and free furniture, TV, or cabinet fasteners (during the "Secure Your Space" presentation at 3:15).

In between each set of sessions there will be extended breaks for visiting the many exhibitor booths.
We look forward to seeing you!
Agenda
10:45 – 11:00
Earthquake Country Alliance Symposium: Welcome and Overview
Margaret Vinci (Caltech), Heidi Rosofsky (Global Vision Consortium), and Alan Hanson (Simpson Strong-Tie, retired)

11:00 – 11:45
Anticipating Earthquakes
John Rundle, University of California, Davis
Major earthquakes can cause great destruction, injuries and death. Anticipating these events has been extremely challenging. Recently we have pioneered a new approach involving nowcasting, a term borrowed from economics and finance, together with machine learning. These new methods allow us to rigorously compute earthquake probabilities directly from observed data, over short time scales of 1 to 3 years in the future, compared to the current 30 -year time scales.

11:45 – 12:15
Overview of Earthquake Resources, Financial Incentives, and ways to Collaborate
Heidi Rosofsky (Global Vision Consortium), Margaret Vinci (Caltech), and Alan Hanson (Simpson Strong-Tie, retired)
This session will provide updates about the 2022 ShakeOut, new earthquake and tsunami documents and graphics available for use, the 2023 ECA Mini Awards program, an update about the Earthquake Brace and Bolt Program (registration ends 11/29), and more.

1:15 – 2:00
The Seven Steps to Earthquake Safety
Mark Benthien, Southern California Earthquake Center (and ECA)
Are you prepared to survive and recover when a major earthquake happens in your community? The choices we make now will also determine our quality of life in the days, months and years after. The Earthquake Country Alliance has worked with experts to develop this step-by-step guide for staying safe when the earth shakes; attendees will complete their own action plan of simple actions to take for each step.

2:00 – 2:30
ShakeAlert® Earthquake Early Warning: How it Works and How to Get the Alert!
Robert de Groot, USGS and Margaret Vinci (Caltech)
Learn about how to receive alerts on your mobile device or through other systems that may provide a few seconds notice prior to the arrival of earthquake shaking, including how to set up your phone and new options for automating opening of doors, slowing of trains, etc.

3:15 – 4:00
Secure Your Space! How to fasten items so they won't fall and cause injuries or damage
Glen Granholm, Safe-T-Proof
Learn the importance of properly securing furniture, TVs, cabinet drawers, and other items so they won't fall down or be through across the room, causing injury or damage. Key principles and approaches will be demonstrated and all participants will receive free fasteners!

4:00 – 4:10
ECA Symposium Wrap Up and Acknowledgements
Alan Hanson (Simpson Strong-Tie, retired)Heidi Rosofsky (Global Vision Consortium), and Margaret Vinci (Caltech)
Register for Free Tickets to Attend the Expo & ECA Symposium
Be sure to select "Yes" when asked "Do you want to participate in the Earthquake Country Alliance Symposium on Day 1?"
We are also looking for ECA Members to volunteer with us at the ECA Booth (#889) on Thursday, November 10, to provide earthquake safety guidance to attendees. Email socal@earthquakecountry.org if interested!


View Symposium Schedule on Expo Site
View Symposium Speaker Information on Expo Site
QUESTIONS: socal@earthquakecountry.org