Earthquake Country Alliance Calendar
ECA SoCal Spring 2022 Workshop
May 11, 2022 @ 10:00 am

-

12:15 pm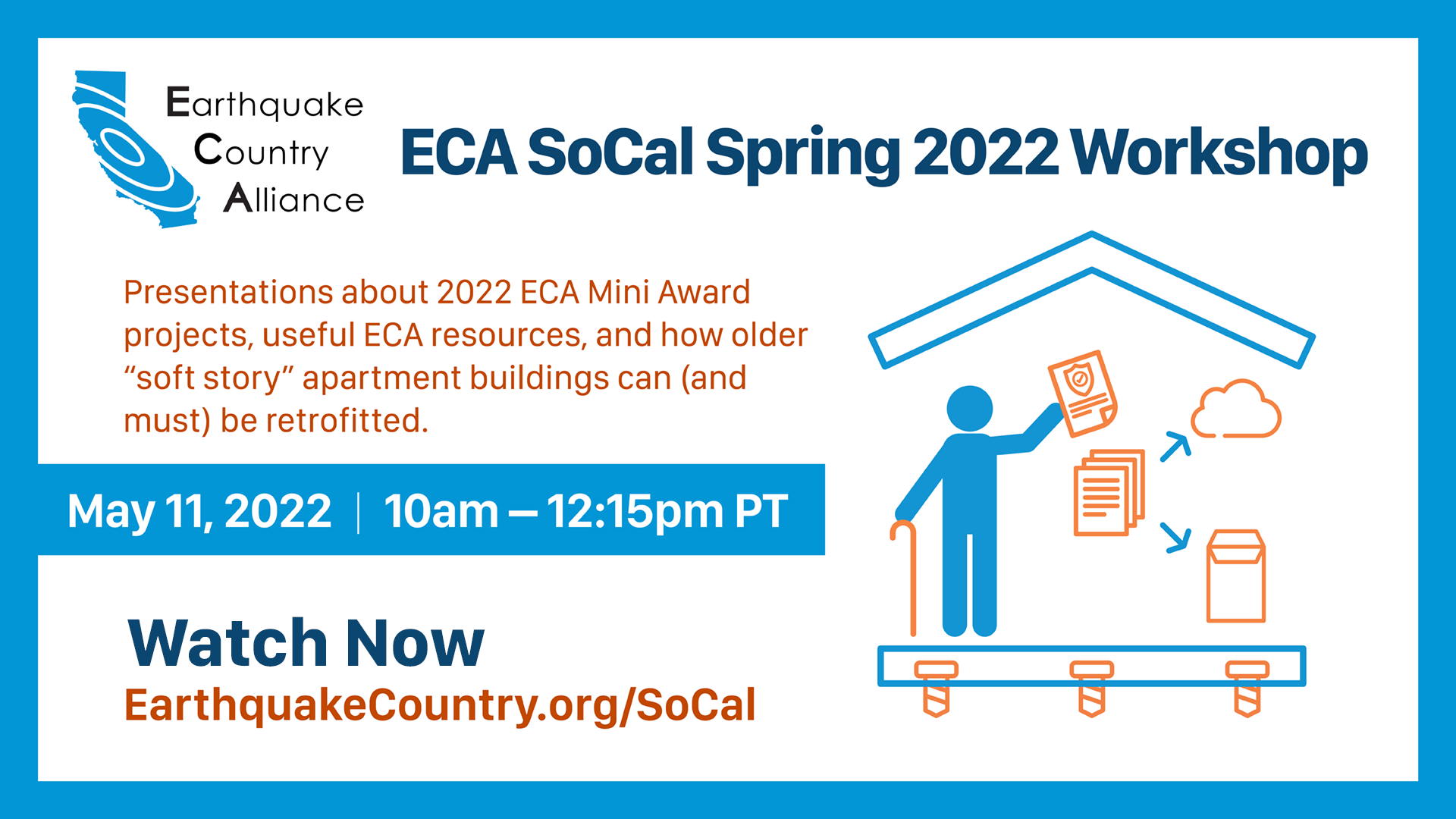 OVERVIEW: ECA SoCal's Spring 2022 workshop featured a presentation about the importance of retrofitting older apartment buildings with large openings on the ground floor; 2022 ECA Mini Award recipients shared updates about their projects; ECA resources and activities were highlighted; and there was an open discussion for attendees to ask questions and make suggestions.
AGENDA



ECA SoCal Chairs (Alan Hanson, Heidi Rosofsky, Margaret Vinci)
Executive Director (Mark Benthien)
Welcome
ECA SoCal Update and Leadership Opportunities
ECA Statewide Updates, 2022 ShakeOut, Mini Award Program overview




ECA SoCal 2022 Mini Award Recipients
"Lightning Talk" overviews of their organizations, Mini Award projects, and current status.

Margaret Vinci (Manager, Office of Earthquake Programs, Caltech)

Quakes Break: Regional Seismic Activity since last workshop
Daniel Zepeda (Principal, Degenkolb Engineers)

What's the Story on Soft-Story Retrofits?
Learn why and how older apartment buildings with "tuck-under" parking are retrofitted.
Open Discussion
WORKSHOP RECORDING, PRESENTATION SLIDES, SURVEY, etc.
Workshop Video Recording (Youtube; also view below)
Workshop Presentation Slides (PDF; some content shared live by presenters may not be not included)
Select links mentioned during the workshop (PDF)
Brief survey (Please complete after viewing the workshop (live or recorded)
(Click "CC" to see captions, once the video starts playing)
QUESTIONS: socal@earthquakecountry.org