Earthquake Country Alliance Calendar
ECA Bay Area Spring 2022 Workshop
May 25, 2022 @ 1:00 pm

-

3:00 pm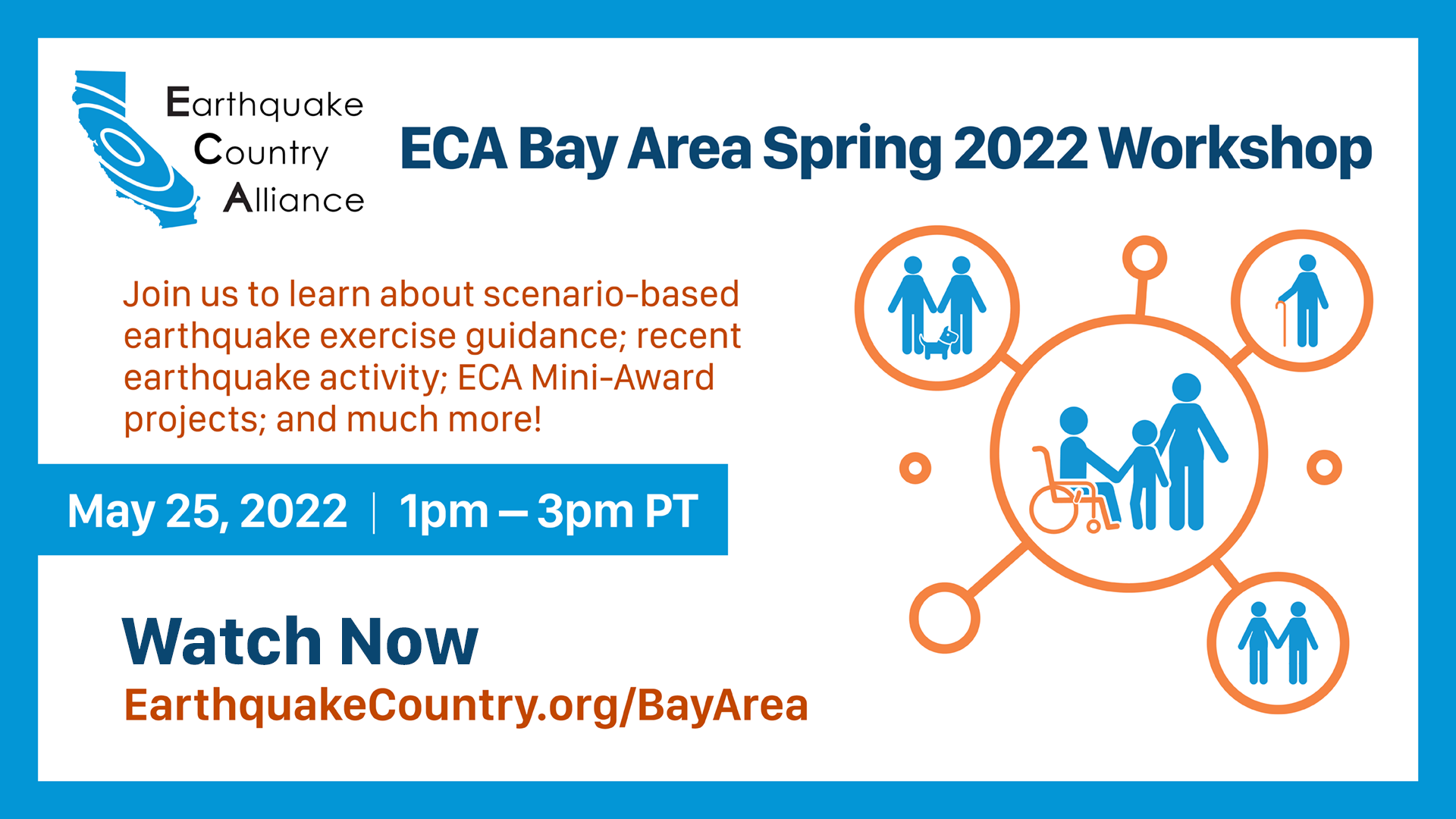 OVERVIEW
ECA Bay Area's Spring 2022 workshop featured a presentation on enhancing resilience by exercising aspects of an earthquake scenario; 2022 ECA Mini Award recipients shared updates about their projects; ECA resources and activities were highlighted; and we had open discussion for attendees to ask questions and make suggestions.
AGENDA



ECA Bay Area Chairs: Ray Bonilla (Meta), Dena Gunning (San Mateo Central Country Fire, Daniel Homsey (City/County of San Francisco)
ECA Executive Director (Mark Benthien)

Welcome
ECA Statewide Updates, 2022 ShakeOut, etc.
ECA Bay Area Update and Leadership Opportunities





ECA Bay Area 2022 Mini Award Recipients

"Lightning Talk" overviews of their organizations, Mini Award projects, and current status.





Dr. Josie Nevitt (Research Geophysicist, USGS)

Quakes Break:

Bay Area Seismic Activity since last workshop






Monika Stoeffl (Executive Director, California Resiliency Alliance)

Enhancing Your Operational Resilience by Exercising Aspects of an Earthquake Scenario

This presentation highlights how the many facets of the HayWired earthquake scenario provide a great opportunity to exercise different aspects of resilience, ranging from preparedness and mitigation to response and recovery. The Fires After Earthquakes facilitator guide from the soon-to-be-released HayWired Scenario Exercise Toolkit were used to show how an earthquake scenario can be used to focus on and enhance operational resilience via a simple approach that can be used by all organizations.

Anne Rosinski (Earthquake Program Manager, Mitigation Division FEMA Region 9)

Mitigation Moment


WORKSHOP RECORDING, PRESENTATION SLIDES, SURVEY, etc.
Workshop Video Recording (Youtube; also view below)
Workshop Presentation Slides (PDF; some content shared live by presenters may not be not included)
Select links mentioned during the workshop (PDF)
Brief survey (Please complete after viewing the workshop (live or recorded)
(Click "CC" to see captions, once the video starts playing)
QUESTIONS:

bayarea@earthquakecountry.org